Digital Business Card Bhopal
Justagg is the name of the modern way to network in Bhopal with Digital Business Cards. No more paper waste – you can effortlessly share your details through NFC tapping.
No app hassle, no matter if you're on iOS or Android. Update your info anytime, share limitlessly, and switch between modes for various occasions through our Digital Business Card in Bhopal.
Instantly level up your networking with Justagg's Digital Business Card in Bhopal. Thanks to our modern tech, you effortlessly connect and share with a single tap.
It's easy and efficient. You can introduce yourself instantly, anywhere, with our Justagg digital business card.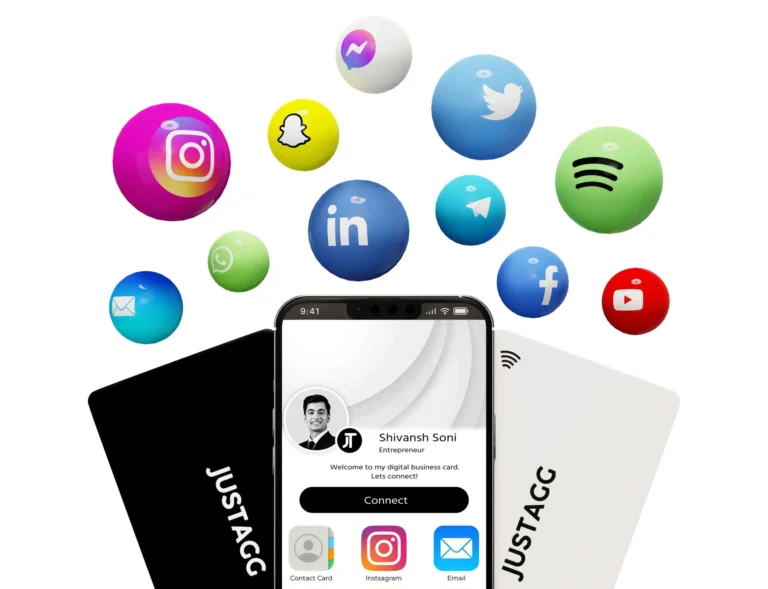 Digital Business Card Bhopal: Streamline Networking Efforts
Check out the newest way to network in Bhopal – our Digital Business Card.
Smoothly swap contacts and create lasting connections. No matter if it's at a meetup or a conference, we are here for you.
Edit your information in real-time. We help you keep everything updated
No app is required to exchange information. Works on both iOS and Android devices.
Instantly share information with NFC-compatible devices or QR codes.
Going for a business meeting? Use a Business mode. About to hang out? Switch to Social Mode.
Pick a colour for your Justagg Digital Business Card
Choose a colour that goes with your personality! Your digital business card's background isn't just for show – it's got more going on than you'd think.
Jazz up your card with awesome colours that bring some life and energy to your professional game. Your card, your style!
View Analytics with Justagg Digital Business Cards
Check out the stats! Justagg Digital business cards are like your personal data wizards.
They track everything and give you super useful info about who's checking out your card and how they're engaging with it.
General Questions About NFC Digital Business Cards
Well, it's a smart solution. With a simple tap, a Justagg device wirelessly shares your entire Justagg Profile with someone's phone.
This profile is fully customizable, allowing you to provide all the important details about you and your company. This covers things like your bio, social media links, payment info, and more.
It's a budget-friendly, eco-conscious alternative to traditional business cards, leaving a lasting impact. In a nutshell, it's the Justagg digital business card – a modern way to make meaningful connections.
Nope, no need for that. People can simply tap your device or scan your QR code with their camera to get your info. No app is required. Just a hassle-free Digital Business Card experience.
Use of Justagg digital business card in Bhopal is free!